The Red Horse began its ride 2020/2021. Sort of got a head start in the USA on the streets of several major cities. The cry to defund police caused a major increase in violent crimes. Then there was the preparations for a major uprising in the event that the 2020 election didn't go a certain way. Well, we saw how that turned out. Didn't stop the riots! Maybe slowed them down a bit. Then there was January 6! Still trying to figure that one out. As always, there are two sides to any issue – the mainstream narrative and the actuality.
Since the sacred calendar begins in the spring, we'll begin the horse's ride also. (See "Missing Links – Appendix IV".) Thousands of missiles began to fly in the State of Israel this spring 2021. The Kingdom of Judah was restored to its homeland in 1948 and was under attack once again. The Jews have been defending their right to exist for 73 years now. It was 70 years in 1998 when President Trump recognized Jerusalem as the captial.
Israel retaliates, as they have no other choice. They decide to take out Hamas Headquarters which also houses the Palestinian offices of the News Agency Al Jazeera.
There was a cease fire. How many has there been since the 6-day war in 1967? (See The 2300 Day Prophecy in "Missing Links – Chapter VI". [1967 + 3 JST's = 2027] See "Cosmic Clockworks".) Wow, woe, wow! After Iran pretty much tells Biden to kiss their butt on the nuclear deal, it attacked an Israeli ship. 8/1/21 Israel has proof on the ship attack.
On 8/5/21, Israel announces:
Then on 8/7/21 Israel has to defend against incendiary ballons. Guess Hamas ran out of Iranian missiles and had to use balloons until their next shipment came in. Wonder if high tech tracking systems have difficulity in tracking balloons?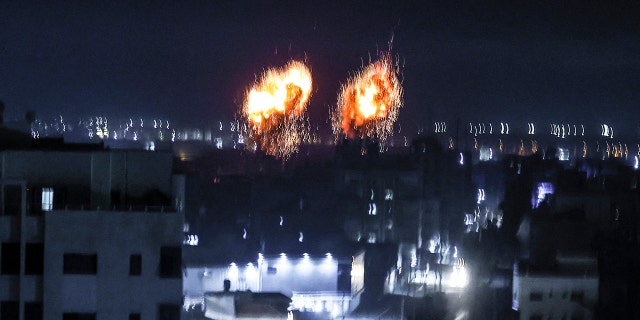 https://www.foxnews.com/us/gaza-unrest-fire-balloons-airstrikes-mark-a-new-round-of-violence-in-israel
Then there is the other side's view.
Main while in the South China Sea:
7/29/21 > https://www.the-sun.com/news/3372974/ww3-fears-china-stages-taiwan-invasion-drills/
8/6/21 > https://whatsuptoday.org/2021/08/06/china-threatens-usa-after-our-750-million-arms-sale-to-taiwan/
Then Kabul falls! (See "Twice in a Lifetime".)
AND CHINA STEPS UP THE RHETORIC!!!
"And as he sat upon the mount of Olives, the disciples came unto him privately, saying, Tell us, when shall these things be? and what shall be the sign of thy coming, and of the end of the world? And Jesus answered and said unto them, Take heed that no man deceive you. For many shall come in my name, saying, I am Christ; and shall deceive many. And ye shall hear of wars and rumours of wars: see that ye be not troubled: for all these things must come to pass, but the end is not yet. For nation shall rise against nation, and kingdom against kingdom: and there shall be famines, and pestilences, and earthquakes, in divers places. All these are the beginning of sorrows. Then shall they deliver you up to be afflicted, and shall kill you: and ye shall be hated of all nations for my name's sake. And then shall many be offended, and shall betray one another, and shall hate one another." (Matt. 24:3-10)
The white and red horse are riding stronger and as time progresses – even more stronger. There are two more to go! Time to come out of babylon, pray and be strong! ( Daniel 7:25, Isaiah 24:5)
https://tubitv.com/movies/438709/the-coming-convergence
LOLGB+