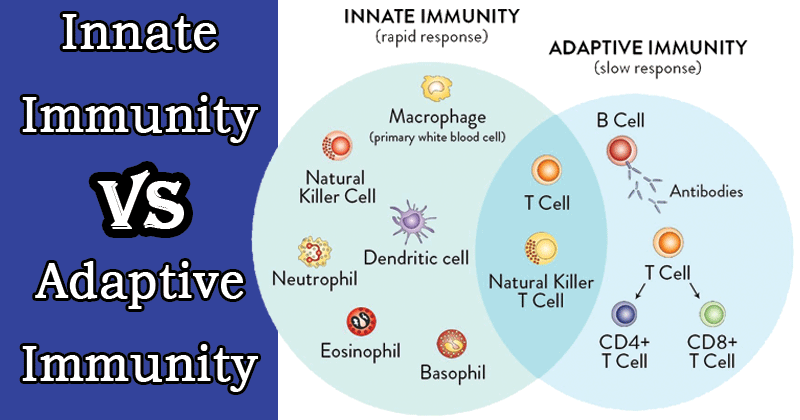 Innate immunity begins during gestation and continues at childbirth with the first drink of mothers milk. It is part of Father God's unique design when he created us. Adaptive immunity is acquired as we grow and come in contact with various diseases. (Adaptive immunity is often called Acquired Immunity.) There are childhood diseases that live vaccines have been developed for that do not affect adults. There are adult diseases that do not affect children because of their stronger immunity. Children can withstand respiratory viruses better than older adults. There are more vaccinated people being hospitalized for covid than unvaccinated. WHY? The so called experts in control are more concerned with their egos and reputations than having the courage to admit they are wrong. Oaths to duty today are only words, and integrity is all but lost.
*******
"The key difference between innate and adaptive immunity is that innate immunity is a fast immune response that provides the first line of immunological defence against infections while adaptive immunity is a slow immune response mediated by the T and B lymphocytes.
The major function of the immune system is to defend the host against pathogens and toxins. The cells of the immune system remain as individual cells, rather than forming into organs. These immune cells are present throughout the body. However, these cells of the immune system work in a cooperative manner to complete their task for the body. The unique characteristic feature of the immune system is that it can recognize its own molecules from foreign molecules. Generally, an immune response involves a number of key stages: pathogen recognition, activation and initiation, regulation, and the generation of immunological memory. The vertebrate immune system comprises of two basic branches; innate and adaptive immunity. Although these immunities have different roles, they generally act together in fighting an infection."
Source: https://www.differencebetween.com/difference-between-innate-and-vs-adaptive-immunity/#:~:text=The%20key%20difference%20between%20innate%20and%20adaptive%20immunity,response%20mediated%20by%20the%20T%20and%20B%20lymphocytes.
*******
Watched this week's episode of the Highwire last night. IT IS A MUST SEE! For the sake of the children share this post or the episode itself. Also see "Missing Links – Appendix VI" in the main menu. Other related posts are in the archives with the covid vax ones most recent and white horse ones further back. Scroll back in time. Started site in April 2021.
*******
EPISODE 242: THE VANDEN BOSSCHE INTERVIEW
*******
Isaiah 59
KJV_Cambridge(i)1 Behold, the LORD's hand is not shortened, that it cannot save; neither his ear heavy, that it cannot hear: 2 But your iniquities have separated between you and your God, and your sins have hid his face from you, that he will not hear. 3 For your hands are defiled with blood, and your fingers with iniquity; your lips have spoken lies, your tongue hath muttered perverseness. 4 None calleth for justice, nor any pleadeth for truth: they trust in vanity, and speak lies; they conceive mischief, and bring forth iniquity. 5 They hatch cockatrice' eggs, and weave the spider's web: he that eateth of their eggs dieth, and that which is crushed breaketh out into a viper. 6 Their webs shall not become garments, neither shall they cover themselves with their works: their works are works of iniquity, and the act of violence is in their hands. 7 Their feet run to evil, and they make haste to shed innocent blood: their thoughts are thoughts of iniquity; wasting and destruction are in their paths. 8 The way of peace they know not; and there is no judgment in their goings: they have made them crooked paths: whosoever goeth therein shall not know peace. 9 Therefore is judgment far from us, neither doth justice overtake us: we wait for light, but behold obscurity; for brightness, but we walk in darkness. 10 We grope for the wall like the blind, and we grope as if we had no eyes: we stumble at noonday as in the night; we are in desolate places as dead men. 11 We roar all like bears, and mourn sore like doves: we look for judgment, but there is none; for salvation, but it is far off from us. 12 For our transgressions are multiplied before thee, and our sins testify against us: for our transgressions are with us; and as for our iniquities, we know them; 13 In transgressing and lying against the LORD, and departing away from our God, speaking oppression and revolt, conceiving and uttering from the heart words of falsehood. 14 And judgment is turned away backward, and justice standeth afar off: for truth is fallen in the street, and equity cannot enter. 15 Yea, truth faileth; and he that departeth from evil maketh himself a prey: and the LORD saw it, and it displeased him that there was no judgment.
LOLGB+