Revelation 3:14-22
KJV(i) 14 And unto the angel of the church of the Laodiceans write; These things saith the Amen, the faithful and true witness, the beginning of the creation of God; 15 I know thy works, that thou art neither cold nor hot: I would thou wert cold or hot. 16 So then because thou art lukewarm, and neither cold nor hot, I will spue thee out of my mouth. 17 Because thou sayest, I am rich, and increased with goods, and have need of nothing; and knowest not that thou art wretched, and miserable, and poor, and blind, and naked: 18 I counsel thee to buy of me gold tried in the fire, that thou mayest be rich; and white raiment, that thou mayest be clothed, and that the shame of thy nakedness do not appear; and anoint thine eyes with eyesalve, that thou mayest see. 19 As many as I love, I rebuke and chasten: be zealous therefore, and repent. 20 Behold, I stand at the door, and knock: if any man hear my voice, and open the door, I will come in to him, and will sup with him, and he with me. 21 To him that overcometh will I grant to sit with me in my throne, even as I also overcame, and am set down with my Father in his throne. 22 He that hath an ear, let him hear what the Spirit saith unto the churches.
***
When I read the following article, the above passage from Revelation flashed in my mind. The majority of professing Christians today are lukewarm, no matter if they follow the truth of scripture or deceived by the doctrines and traditions of men. They "self-censor" or practice the "chilling effect" in what Christian based values they do have until they get so ice cold that sooner or later they become crushed ice melting in the lukewarmness around them. Those remaining hot will be persecuted to death, unless surrounded by so much crushed ice they become lukewarm too.
From: https://www.christianheadlines.com/contributors/milton-quintanilla/christians-are-self-censoring-their-beliefs-due-to-secular-intolerance-study-finds.html?utm_source=ChristianHeadlines%20Daily&utm_campaign=Christian%20Headlines%20Daily%20-%20ChristianHeadlines.com&utm_medium=email&utm_content=6613039&recip=556846982&aps=cb058141c209ed9dc8d3988ba3d2e071a364245ee2c7a6846d142db10260e94d IN READ FORMAT
Christians Are Self-Censoring Their Beliefs due to Secular Intolerance, Study Finds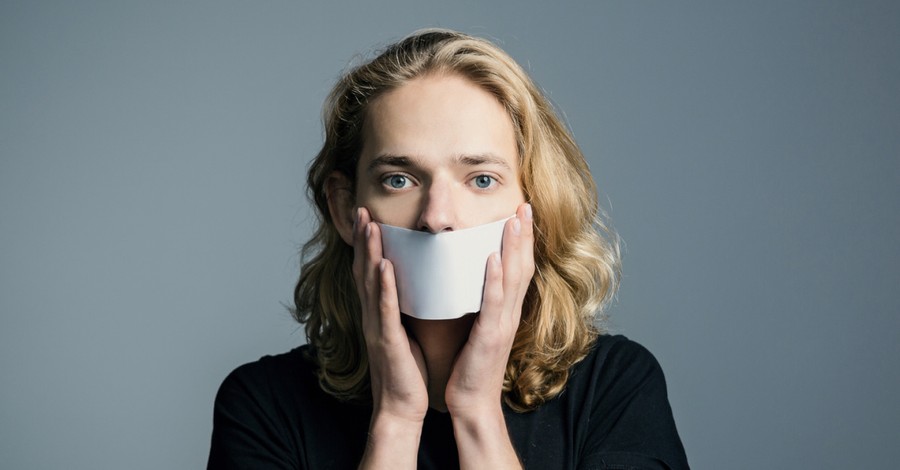 According to a new report, Christians who find it difficult to freely express their beliefs in society due to secular intolerance are practicing "various forms of self-censorship."
The report, titled "Perceptions on Self-Censorship: Confirming and Understanding the 'Chilling Effect,'" was put together by the Observatory on Intolerance and Discrimination Against Christians in Europe, the Observatory of Religious Freedom in Latin America and the International Institute for Religious Freedom. The study features case studies from France, Germany, Colombia and Mexico.
"Secular intolerance has a chilling effect on Christians, which directly affects their capacity to express their faith freely in society and is leading to various forms of self-censorship," the study said. "Some people do indeed fear being subjected to legal proceedings or being criminally sanctioned on charges of discrimination, while others fear being subjected to disciplinary proceedings in their work or places."
"With some exceptions, the majority chose to keep its expressions of faith or its opinions on issues related to life, marriage and the family from a Christian doctrine perspective private because they had witnessed sanctions or prosecutions to which colleagues or peers had been subjected," the report added.
According to The Christian Post, the report's authors stressed that while some of the incidents cited in the report may seem insignificant, when compounded, they can ultimately cause believers to feel uncomfortable living out their faith.
"A few cuts do not kill you and barely hurt. But continuous small strikes eventually have an impact. We posit that the accumulation of seemingly insignificant incidents creates an environment in which Christians do not feel comfortable – to some degree – to live their faith freely," the report explained. "Indeed, Western Christians experience a 'chilling effect' resulting from perceived pressures in their cultural environment, related to widely mediatized court cases."
"Because of the subtle and generally non-physically violent nature of the chilling effect, it is often misunderstood or even ignored and therefore largely remains invisible," the report continued.
"This is the main reason why the phenomenon is not recognized in religious freedom datasets such as the Pew Research Center indexes," the authors stated.
The report noted that self-censorship not only limits people from expressing their religious beliefs "but also that these violations to the right to religious freedom can cause the disappearance of religion in a given context."
As reported by Christian Today, Madeleine Enzelberger, executive director of OIDAC Europe, explained that the study "raises the legitimate question of: how is it possible in a mature, liberal democratic society that stands for tolerance, diversity, and inclusive and open discourse, that people are frightened to freely speak their minds?"
Most Christian participants in the study were unaware of their self-imposed censorship. However, some have censored themselves so regularly that they have stopped "seeing the characteristics related to self-censorship as a problem."
"The Church has allowed itself to be self-censored … Christian religious leaders have more freedom to express themselves freely (but they do not always take advantage of it)," the study asserted.
In response to self-censorship, the author's stressed there must be "an urgent need to educate policymakers, public servants (including the police) and judges about religion to increase their religious literacy."
"We have seen that a high degree of religious illiteracy leads to misunderstanding of how religion informs behavior in different spheres of society and what the legitimate role of religion in the public domain is," the authors wrote. "Illiteracy, therefore, can consequently be the cause of 'practical intolerance' against Christians."
***
"Most Christian participants in the study were unaware of their self-imposed censorship. However, some have censored themselves so regularly that they have stopped "seeing the characteristics related to self-censorship as a problem."
Put a frog in a pot of boiling water and it will quickly jump out. Sure is will be burned and suffer pain, but it at least jumped out. If it were put in a pot of ice cold water it would jump out so it would not freeze to death. Put the frog in a pot of lukewarm water, it would enjoy the bath and just sit there, but as the heat is turned up slowly, it will get more and more relaxed until it is boiled to death.
Revelation 12
KJV(i) 1 And there appeared a great wonder in heaven; a woman clothed with the sun, and the moon under her feet, and upon her head a crown of twelve stars: 2 And she being with child cried, travailing in birth, and pained to be delivered. 3 And there appeared another wonder in heaven; and behold a great red dragon, having seven heads and ten horns, and seven crowns upon his heads. 4 And his tail drew the third part of the stars of heaven, and did cast them to the earth: and the dragon stood before the woman which was ready to be delivered, for to devour her child as soon as it was born. 5 And she brought forth a man child, who was to rule all nations with a rod of iron: and her child was caught up unto God, and to his throne. 6 And the woman fled into the wilderness, where she hath a place prepared of God, that they should feed her there a thousand two hundred and threescore days. 7 And there was war in heaven: Michael and his angels fought against the dragon; and the dragon fought and his angels, 8 And prevailed not; neither was their place found any more in heaven. 9 And the great dragon was cast out, that old serpent, called the Devil, and Satan, which deceiveth the whole world: he was cast out into the earth, and his angels were cast out with him. 10 And I heard a loud voice saying in heaven, Now is come salvation, and strength, and the kingdom of our God, and the power of his Christ: for the accuser of our brethren is cast down, which accused them before our God day and night. 11 And they overcame him by the blood of the Lamb, and by the word of their testimony; and they loved not their lives unto the death. 12 Therefore rejoice, ye heavens, and ye that dwell in them. Woe to the inhabiters of the earth and of the sea! for the devil is come down unto you, having great wrath, because he knoweth that he hath but a short time. 13 And when the dragon saw that he was cast unto the earth, he persecuted the woman which brought forth the man child. 14 And to the woman were given two wings of a great eagle, that she might fly into the wilderness, into her place, where she is nourished for a time, and times, and half a time, from the face of the serpent. 15 And the serpent cast out of his mouth water as a flood after the woman, that he might cause her to be carried away of the flood. 16 And the earth helped the woman, and the earth opened her mouth, and swallowed up the flood which the dragon cast out of his mouth. 17 And the dragon was wroth with the woman, and went to make war with the remnant of her seed, which keep the commandments of God, and have the testimony of Jesus Christ.
Matthew 7:21-23
KJV(i) 21 Not every one that saith unto me, Lord, Lord, shall enter into the kingdom of heaven; but he that doeth the will of my Father which is in heaven. 22 Many will say to me in that day, Lord, Lord, have we not prophesied in thy name? and in thy name have cast out devils? and in thy name done many wonderful works? 23 And then will I profess unto them, I never knew you: depart from me, ye that work iniquity.
Come out of Babylon for her Judgement is near!
LOLGB+