What is a bribe?
bribe – [brīb] – VERB – persuade (someone) to act in one's favor, typically illegally or dishonestly, by a gift of money or other inducement.
Bribery
brib·er·y – [ˈbrīb(ə)rē] – NOUN – the giving or offering of a bribe.
What is bribery in a viral pandemic after warp speed is granted to produce a vaccine with immunity?
Scamdemic?
Many readers of this Substack have doubtless wondered why their "health care providers"—i.e., doctors, repeatedly exhorted them to get the COVID-19 vaccines and boosters. In my extended social circle, I heard many reports of doctors being downright pushy about it—as though getting the COVID-19 vaccine was the single most pressing matter of medicine and health.
Even patients who'd recently recovered from COVID-19 were urged by their doctors to get the shots, as were patients who had bad reactions to the first injection.
For a long time, Dr. McCullough and I wondered if these doctors really were that brainwashed, or was there some other explanation for their zeal?
A few days ago, fellow Substack author, Tessa Lena (Tessa Fights Robots) published this document that was apparently circulated to doctors with patients insured by Anthem Blue Cross and Blue Shield Medicaid in the state of Kentucky.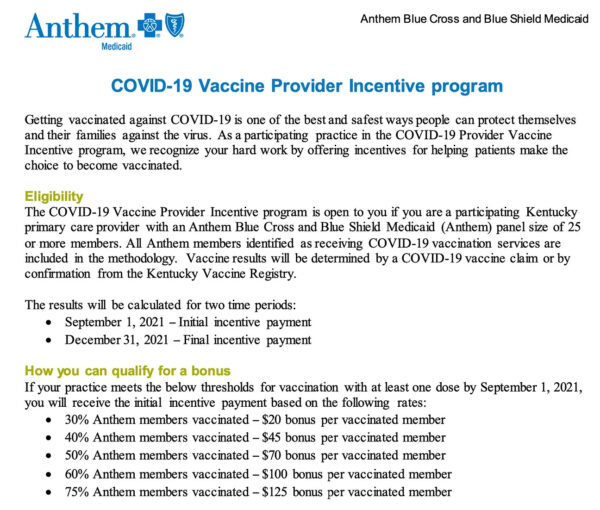 The document raises a number of intriguing questions. I wonder: How many members might be registered in a given practice—that is, how many of those $125 bonuses per vaccinated member could a busy and efficient doctor with a good support staff receive?…
****
If one wants to get to the root of a problem, just follow the money for it is the root of all evil!
And for the first time…
From the article:
The United States has for the first time paid people who were injured by COVID-19 vaccines.
Three people received compensation for their injuries through the Countermeasures Injury Compensation Program (CICP), run by an agency within the Department of Health and Human Services, officials said in a new update.
One person who suffered severe allergic shock received $2,019, according to the agency, the Health Resources and Services Administration. One person who suffered heart inflammation, or myocarditis, received $1,582. Another who suffered myocarditis received $1,032.
The manufacturer of the vaccines was not made public. Information about the people who received the payments has also not been made public.
The payouts mark the first time the U.S. government has paid people who were injured by the COVID-19 vaccines, which can cause serious problems as well as death and were first introduced in late 2020.
Under the CICP, people who survive their vaccine-induced injury can receive money for unreimbursed medical expenses and lost employment income.
The newly granted compensation appears to only be for medical expenses, Wayne Rohde, author of The Vaccine Court, told The Epoch Times….
****
What about family members loses?
CICP made the payments!
(Taxpayers money!!)
Not Big Pharma, because…
Meanwhile…
A good doctor got canceled…
Despite a stellar career, the sin of insisting on using a harmless, effective solution (instead of this toxic substance, halted for Ebola because it was shown to kill people) resulted in his being vilified, discredited, and forced to resign. Here's how he's fighting back.
Download Interview Transcript Download my FREE Podcast Video Link
STORY AT-A-GLANCE
Before the COVID pandemic, Dr. Paul Marik became well-known for his development of a highly effective sepsis protocol using intravenous vitamin C, which resulted in a dramatic reduction in mortality rates.
In 2020, he cofounded the Front Line COVID-19 Critical Care Alliance (FLCCC) and subsequently published one of the most comprehensive and effective protocols for treating COVID-19, called MATH+.
While COVID mortality in Marik's ICU was half that of his peers, the hospital banned the protocol from being used.
Marik sued to get MATH+ reinstated, at which point he was put through a sham peer review. The hospital levied fabricated charges against him and his hospital privileges were immediately suspended.
After Marik's long tenure with numerous accolades, the hospital reported him to the National Practitioner Data Bank, which makes it near-impossible to get a medical license again in any state. This effectively ended his clinical career. However, Marik is taking a new route. Having discovered the falsehoods that conventional medicine has been built upon, he's now researching and developing health protocols using lifestyle modification, diet, and repurposed drugs….
****
As the old saying goes…
An ounce of prevention is worth a pound of cure!
Meanwhile…
From the article:
While the fact checkers are burning the midnight oil to hide these truths, here's why you could be tracked and end up experiencing negative repercussions in other areas of your life due to your vaccination status. The red flag: The Centers for Disease Control and Prevention (CDC) refused to answer these questions.
STORY AT-A-GLANCE
In mid-February 2023, I reported that the U.S. government has secretly been tracking those who didn't get the COVID jab, or are only partially jabbed, through a previously unknown surveillance program.
Within days, fact checkers tried to debunk the idea that individual people are being tracked, or that these data could be misused by government or third parties.
COVID "vaccination" status was not considered a private medical matter at all during 2021 and 2022, yet mainstream media now want you to believe that your COVID jab status is protected by medical privacy laws.
Your medical data are not nearly as private as you think. The Health Insurance Portability and Accountability Act (HIPAA) is rife with exemptions when it comes to your privacy. Federal agencies such as the U. S. Health and Human Services (HHS) and the Centers for Disease Control and Prevention, for example, are exempt from the privacy clauses and can access identifiable data—especially if there's an outbreak of infectious disease, be it real or fictitious.
Government agencies and a number of third parties or "covered entities" can also use a number of loopholes to re-identify previously de-identified patient data….
****
I'm still unvaxed, and what I think the government knows about it is like that famous quote in "Gone With The Wind" by the famous actor Clark Gable:
Frankly my dear…
I don't give a damn

!
&
Since "herd immunity" was never reached with human vaccination…
From the article:
At least five states have introduced bills restricting the use of controversial mRNA technology or gene therapies in livestock or demand full disclosure to consumers on product packaging.
The states considering legislation include North Dakota, Tennessee, Arizona, Idaho, and Missouri.
Idaho House Bill 154 would make it a misdemeanor offense for anyone who provides or administers a vaccine using mRNA technology "for use in an individual or any other mammal in this state."
Arizona House Bill 2762 requires conspicuous labeling of all aquatic, livestock, or poultry products that received mRNA vaccines, and prohibits these products from being labeled as organic.
Tennessee House Bill 0099 amends an existing law to prohibit the manufacture or sale of livestock or meat that contains mRNA "vaccine of vaccines materials" without a conspicuous label that there are such ingredients in the product.
In North Dakota, state lawmakers filed SB2384, which seeks to ban the use of mRNA vaccines in humans and to introduce a penalty for anyone breaking the prohibition.
Missouri State Rep. Holly Jones, a Republican, is the lead sponsor of a bill requiring product labeling of all livestock meat containing "potential gene therapy products.
"We label everything around the world. We label non-GMO. We label GMO. We label grass-fed. We label no antibiotics used. We label manufactured in a plant that has nuts," Jones said….
****
What's in your beef burger?
&
And what's the color of this horse?
A few years ago, the term "mRNA" was primarily confined to scientific circles and research papers. Then, the use of messenger RNA seemed promising: It would teach cells to create a protein that would initiate an immune response against a specific pathogen.
Today, many more of us have heard of mRNA, as both the Pfizer-BioNTech and Moderna COVID-19 vaccines use messenger ribonucleic acid, or mRNA, as the active ingredient. At least, that's what we've been told.
In fact, RNA-based vaccine technology utilizes modified RNA ("modRNA"), not mRNA. This applies to the COVID-19 vaccines and all vaccines currently in the research and development stages. Because mRNA is so fragile that the human immune system will destroy it within a few minutes, mRNA cannot be effective on its own. Therefore, the current technology was made possible only after stabilizing mRNA; the result is modified RNA.
Furthermore, modified RNA-based "vaccines" are not vaccines but gene-based injections that force healthy cells to produce a viral protein. In this article, we will look at the uses and dangers of modRNA.
Natural Infection and Conventional Vaccination
When you are infected naturally by a virus or have received a conventional vaccine, your immune system identifies virus-specific antigens from active or inactivated virus particles, respectively.
The two main types of immune cells, T and B cells, behave differently. T cells identify infected cells and initiate apoptosis (the cell-killing process), while B cells produce antibodies that bind to the virus and thus prevent infection of other cells.
There are various "proteins"—called antigens—on the surface of each virus. Your immune system can memorize more than one of them. When the virus mutates and some proteins change, your immune system can still recognize and kill them. This is referred to as cross-immunity….
****
And MODIFIED RNA gene thereapy does not affect NORMAL DNA?
Who designed the natural immune system?
God designed it!
But when man gets involved in changing that…
From the article:
…"Dr. Wright was a fit and healthy man who had the AstraZeneca COVID vaccination on 16 January 2021, awoke with a headache on the 25th and later developed left arm numbness," coroner Andrew Harris said in his ruling, according to Fox News. "He attended an emergency department just after midnight, where he was found to have high blood pressure and a sagittal sinus venous thrombosis."
"He was transferred to King's College Hospital at 6:39 am but, because of the extent of the bleed and very low platelets, was unfit for surgery, dying at 6:33 pm. My conclusion as to the cause of death is unintended complications of vaccination," he ruled.
Harris called the case "very unusual and deeply tragic," the BBC reported.
Harris's ruling ended a battle on the part of Charlotte Wright, the psychologist's widow, to change her husband's death certificate, which currently has the cause of death as "natural causes." Charlotte Wright is currently suing AstraZeneca.
"It was made clear that Stephen was [previously] fit and healthy and that his death was by vaccination of AstraZeneca. For us, it allows us to be able to continue our litigation against AstraZeneca. This is the written proof," she said….
****
Now it's up to the lawyers!
An engine search

:
From the 02/15/22 article:
As countries consider the fourth booster shot of Covid-19, some researchers are now claiming that repeated vaccinations or boosters may in fact have an adverse effect on the immune system and impede the body's natural ability to fight diseases….
…How vaccines can affect the natural immune system
While vaccines temporarily boost the body's immunity against Covid-19, the immune system stops learning from cell memory and instead depend on what the vaccine taught it about the infection to survive it. Immunologist Daniella Weiskopf told LA Times that vaccinations were teaching the B Cells and T cells how to identify the virus through simulation. In her opinion, the body needed to learn the virus first in order to know which parts to bind to and how to go about eliminating it. This can be especially troublesome in the case of viruses like Covid-19 which has found several variations, some of which have managed to get past the vaccine….
****
Like the immune system was designed

!
****
From the article:
mRNA vaccines tell the body how to make a protein that produces immunity against specific microbes. In contrast, traditional vaccines use weakened or dead microbes, or pieces of them, to stimulate immunity.
Both types of vaccines have advantages. mRNA vaccines have a shorter manufacturing time, but some traditional vaccines can provide lifelong immunity against infection.
This article discusses mRNA vs. traditional vaccines, including how both types work and the advantages and disadvantages of each. It also examines the safety and effectiveness of both types, as well as the side effects.
mRNA vaccines are a relatively new type of vaccine. They contain genetic material, or mRNA, that tells the body how to make a protein. This protein causes an immune response, which teaches the body how to protect itself from a specific virus.
For example, the virus that causes COVID-19, SARS-CoV-2, has spike proteins on its surface. The COVID-19 vaccine causes the body to make this protein, and the presence of the protein causes the body to behave as though it has a SARS-CoV-2 infection, even though it does not….
****
How they work is based on a lie!
From the 04/28/21 article:
Despite the success and optimism of the new COVID-19 vaccination campaigns being rolled out worldwide, the emergence of new viral strains threatens to undermine their effectiveness. Indeed, South Africa has been forced to rethink its strategy as its initial vaccine of choice failed to provide protection to an emerging, but now dominant, viral variant.
Hope is still high that the mRNA-based vaccines licensed in the U.S., with their spectacular efficacy, will continue to provide protection despite impaired targeting of new strains. The jury is still out on viral vector vaccines, like the new Johnson & Johnson vaccine, but early data showing a reduced effectiveness against the South African variant has raised alarms.
RNA viruses, like coronaviruses, are known for their ability to mutate. With continued widespread infection, the opportunity for the virus to mutate and evade ongoing vaccination efforts remains high. Many in the scientific community have felt comfortable in the knowledge that mRNA-based vaccines can be quickly modified and redeployed. If the our current vaccines fail, we revaccinate individuals with obsolete immunity against the new strains, and play global whack-a-mole as the virus evolves….
****
And they have failed!!!!
Was that part of a plan all along????
What could happen to a large number of people who trusted the rider's badge of authority and got vaccinated, boosted, then boosted some more and continues in that trust with the new combo mRNA vaccines?
The body's natural immune system becomes inept!
How inept

?
From the 04/25/2023 article:
ESCANABA, MI – The number of fungal disease cases associated with Billerud Paper Mill in Michigan's Upper Peninsula has grown to 104, health officials said.
Of the 104 cases of blastomycosis, 13 people have been hospitalized and one person died, officials said. All cases are among employees, contractors and visitors to the paper mill.
The Public Health Delta & Menominee Counties continues to investigate the outbreak along with the Michigan Department of Health and Human Services, and Centers for Disease Control and Prevention's National Institute for Occupational Safety and Health. Billerud is cooperating with the investigation.
RELATED: Rare fungal disease outbreak: CDC to offer antigen tests to employees of U.P. paper mill
Blastomycosis, which most often infects the lungs, is a disease that grows in moist soil and decomposing matter such as wood and leaves. It can be contracted by breathing in fungal spores from the air. It is not contagious from person to person or between people and animals.
Michigan's Upper Peninsula is a known risk area for blastomycosis infection, said Michael Snyder, public health officer. However, infections are "exceedingly rare" and most people who are exposed do not get sick.…
****
"

Most people who are exposed do not get sick

."
Why not???
From the article: https://www.bing.com/search?q=Blastomyces&form=ANNTH1&refig=e251a4adc59e4e31b30fb0a1302aa0echttps://en.wikipedia.org/wiki/Blastomyces_dermatitidis
Blastomyces dermatitidis is a dimorphic fungus that causes blastomycosis, an invasive and often serious fungal infection found occasionally in humans and other animals.[1] It lives in soil and wet, decaying wood, often in an area close to a waterway such as a lake, river or stream.[1] Indoor growth may also occur, for example, in accumulated debris in damp sheds or shacks. The fungus is endemic to parts of eastern North America, particularly boreal northern Ontario, southeastern Manitoba, Quebec south of the St. Lawrence River, parts of the U.S. Appalachian mountains and interconnected eastern mountain chains, the west bank of Lake Michigan, the state of Wisconsin, and the entire Mississippi Valley including the valleys of some major tributaries such as the Ohio River….
…In nature, the fungus forms a network of thread-like mycelium that penetrates the substratum on which it grows, and then after 3–5 days of growth begins to reproduce asexually with small (2–10 µm) conidia (asexual spores). These conidia are probably the main infectious particles produced by the fungus. They form on individual short stalks and readily become airborne when the colony is disturbed; their size places them well within the respirable size range for particles,[8] meaning that they can deposit deeply in the lungs when inhaled….
****
Let's put on the ole Sherlock Holmes hat and ask:
Where do trees for paper mills come from?
What happens to rotting debris in a forest when it is disturbed by logging?
Do airborne particles land on tree bark?
What happens to those particles when being processed through a mill?
How many totally vaccinated and boosted employees are among the most affected?
Now let's ask:
If the natural immune system has become so inept that fungal spores along with other bacteria and viral organisms we have been around all our lives suddenly become toxic to us, how is the medical establishment going to combat the new outbreaks due to that ineptness?
Does modified mRNA affect and/or alter the natural viruses, bacteria and fungi that naturally live on and inside us?
From the article:
The microbiome is the collection of all microbes, such as bacteria, fungi, viruses, and their genes, that naturally live on our bodies and inside us. Although microbes are so small that they require a microscope to see them, they contribute in big ways to human health and wellness. They protect us against pathogens, help our immune system develop, and enable us to digest food to produce energy.
Because the microbiome is a key interface between the body and the environment, these microbes can affect health in many ways and can even affect how we respond to certain environmental substances. Some microbes alter environmental substances in ways that make them more toxic, while others act as a buffer and make environmental substances less harmful.
How can the microbiome affect health?
The critical role of the microbiome is not surprising when considering that there are as many microbes as there are human cells in the body. The human microbiome is diverse, and each body site – for example, the gut, skin, and oral and nasal cavities – has a different community of microbes.
A person's core microbiome is formed in the first years of life but can change over time in response to different factors including diet, medications, and environmental exposures.
****
How about those FDA approved GMO's?
How about Big Pharma's other medications along with mRNA vaccines?
How about them train derailments

?
What kind of gains are there in Gain-Of-Function?
GOF's Gains
Who can be trusted these days?
GOD!!
****
Isaiah 24
KJV(i) 1 Behold, the LORD maketh the earth empty, and maketh it waste, and turneth it upside down, and scattereth abroad the inhabitants thereof. 2 And it shall be, as with the people, so with the priest; as with the servant, so with his master; as with the maid, so with her mistress; as with the buyer, so with the seller; as with the lender, so with the borrower; as with the taker of usury, so with the giver of usury to him. 3 The land shall be utterly emptied, and utterly spoiled: for the LORD hath spoken this word. 4 The earth mourneth and fadeth away, the world languisheth and fadeth away, the haughty people of the earth do languish. 5 The earth also is defiled under the inhabitants thereof; because they have transgressed the laws, changed the ordinance, broken the everlasting covenant.
6 Therefore hath the curse devoured the earth, and they that dwell therein are desolate: therefore the inhabitants of the earth are burned, and few men left. 7 The new wine mourneth, the vine languisheth, all the merryhearted do sigh. 8 The mirth of tabrets ceaseth, the noise of them that rejoice endeth, the joy of the harp ceaseth. 9 They shall not drink wine with a song; strong drink shall be bitter to them that drink it. 10 The city of confusion is broken down: every house is shut up, that no man may come in. 11 There is a crying for wine in the streets; all joy is darkened, the mirth of the land is gone. 12 In the city is left desolation, and the gate is smitten with destruction. 13 When thus it shall be in the midst of the land among the people, there shall be as the shaking of an olive tree, and as the gleaning grapes when the vintage is done. 14 They shall lift up their voice, they shall sing for the majesty of the LORD, they shall cry aloud from the sea. 15 Wherefore glorify ye the LORD in the fires, even the name of the LORD God of Israel in the isles of the sea.
16 From the uttermost part of the earth have we heard songs, even glory to the righteous. But I said, My leanness, my leanness, woe unto me! the treacherous dealers have dealt treacherously; yea, the treacherous dealers have dealt very treacherously. 17 Fear, and the pit, and the snare, are upon thee, O inhabitant of the earth. 18 And it shall come to pass, that he who fleeth from the noise of the fear shall fall into the pit; and he that cometh up out of the midst of the pit shall be taken in the snare: for the windows from on high are open, and the foundations of the earth do shake.
19 The earth is utterly broken down, the earth is clean dissolved, the earth is moved exceedingly. 20 The earth shall reel to and fro like a drunkard, and shall be removed like a cottage; and the transgression thereof shall be heavy upon it; and it shall fall, and not rise again. 21 And it shall come to pass in that day, that the LORD shall punish the host of the high ones that are on high, and the kings of the earth upon the earth. 22 And they shall be gathered together, as prisoners are gathered in the pit, and shall be shut up in the prison, and after many days shall they be visited. 23 Then the moon shall be confounded, and the sun ashamed, when the LORD of hosts shall reign in mount Zion, and in Jerusalem, and before his ancients gloriously.
Come out of Babylon for her judgement is near!
eze33, LOLGB+